무료 등록 마카오 카지노 대승_프로모션 해외배팅 사이트 장점_제안 바카라충돌선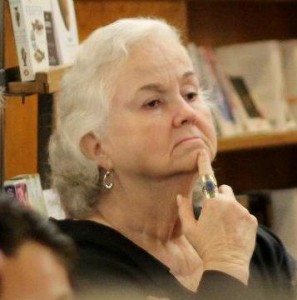 Spent most of her life: Virtually ignoring her academic training in cultural anthropology and her fantasy of being an international journalist and photographer, she's journeyed through 45+ years of doing grass roots organizing and human services working for socio-economic justice and peace.
Home: Where Mollie, her life partner of 35 years, is; in the hearts of her friends; and in Todos Santos Cuchumatan – a very brave, tiny village in the highlands of Guatemala
Exercise routine: Walking to the table for a big bowl of homemade soup, a crispy salad with lots of goodies, a runny Brie, a chunk of crusty, homemade bread and (maybe) a glass of Merlot
Favorite sappy, sentimental foreign film: Antonia's Line
Favorite foreign words: Mojo, Masala, and Mokita
Words she lives by: "Work like you don't need the money; Love like you've never been hurt; And dance like nobody's watching." – "Pray for peace; work for justice; boogie for survival!"
Guilty pleasures: Hooked on HBO including "In Treatment", "True Blood", "Deadwood", "Real Time With Bill Maher, and "The No. 1 Ladies' Detective Agency"; Ben and Jerry's Phish Food, and Karamel Sutra
Among thousands of authors: Jhumpa Lahiri; bell hooks, Chitra Banerjee Divakaruni; Grace Paley; Ntoshake Shange; Zora Neale Hurston, Eduardo Galeano, Simone de Beauvoir, Cornel West, Studs Terkel, Douglas Rushkoff, Howard Zinn, and Charlotte Bunch
Collects: Ethnic folk art and (raunchy) blues and jazz
Spiritual belief: Animism
Labels she claims: Storyteller, xenophile, maverick, quixote, autodidact, transgressor, gypsy, and literarily lascivious
Favorite pastime: Sharing great company, conversation and food (and maybe a small theatre production, street fair, art exhibit or travelling) with her extended chosen family
Toast: "To old friends who are the best friends because they know the song in our hearts and can sing it back to us when we've forgotten the words"
Fatal flaws: Perfectionist's procrastination; hoarding; over-explaining
Imponderables: "At the intersection between sanity and insanity, who decides which is which?"; "Why do we keep letting our so-called leaders put tinsel on a duck and convince us it's a Christmas tree?"
Long-term goal: Living life to the fullest until tomorrow while making a difference!