Ashley Judd Writes a Kickass Feminist Essay… ?AND made a PSA for Feminist Magazine on KPFK!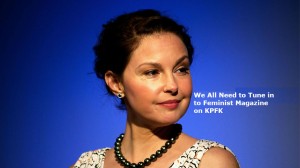 Ashley Judd's 'puffy' appearance recently sparked a viral media frenzy. But, the actress writes, the conversation is really a misogynistic assault on all women.
Read her Essay below… and LISTEN right here to the fabulous PSA Ashley made for Feminist Magazine about why women's & girls voices matter & why it's important to support woman-made media and to Tune in to Feminist Magazine !
by Ashley Judd DAILY BEAST Apr 9, 2012
The Conversation about women's bodies exists largely outside of us, while it is also directed at (and marketed to) us, and used to define and control us. The Conversation about women happens everywhere, publicly and privately. We are described and detailed, our faces and bodies analyzed and picked apart, our worth ascertained and ascribed based on the reduction of personhood to simple physical objectification. Our voices, our personhood, our potential, and our accomplishments are regularly minimized and muted.
READ MORE…